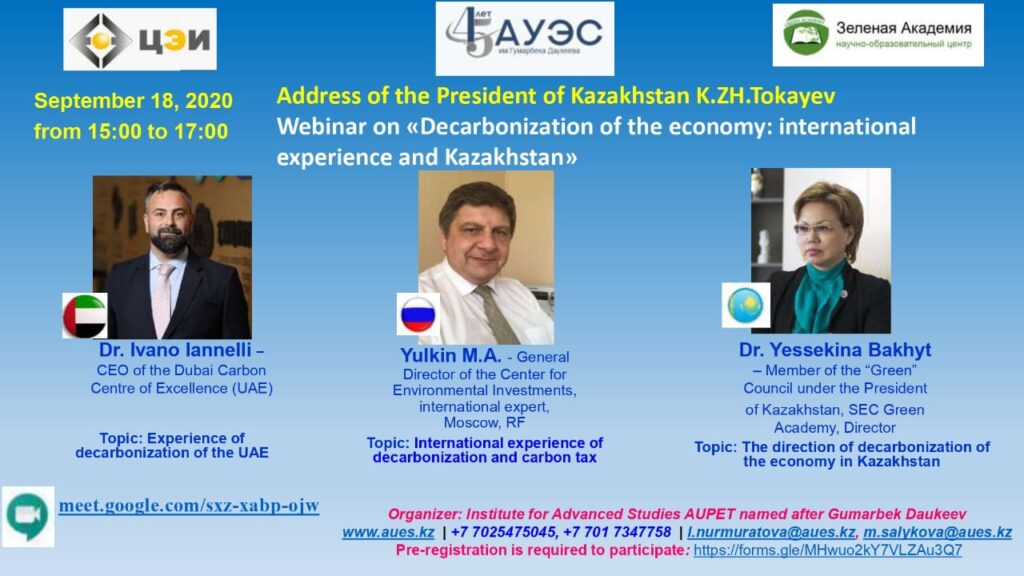 The organizers of the event are Alma-Ata University of Power Engineering and Telecommunications named after G. Daukeeva (AUPET), Scientific and Educational Center "Green Academy", international consulting center "Carbon Lab" (Moscow, RF).
The purpose of the event is to discuss the Instruction of the President of the Republic of Kazakhstan K. Tokayev, told in the Address to the people of Kazakhstan "CONSTRUCTIVE DIALOGUE – THE BASIS OF STABILITY AND PROSPERITY OF KAZAKHSTAN" in terms of ensuring "green" growth and the foundations of deep decarbonization of the economy.
The participation of deputies of the Mazhilis of the Parliament of the Republic of Kazakhstan, representatives of central and local government bodies, science, business companies and Scientific and Production Associations is expected in the webinar.
Representatives of the Ministry of Ecology, Geology and Natural Resources of the Republic of Kazakhstan, national and international experts on climate change and carbon regulation were invited as speakers.
Recommendations to the relevant sections of the draft Environmental Code of the Republic of Kazakhstan will be adopted based on the results of the webinar.
To participate, you have to register before 13.00, 09/18/2020 by the link: https://formdesigner.ru/form/view/139398
Platform Google Meet meet.google.com/sxz-xabp-ojw
Date and time: September 18, 15.00 – 17.00
Contacts: WhatsApp +7 701 7347758, +7 702 5475045
e-mail: m.salykova@aues.kz