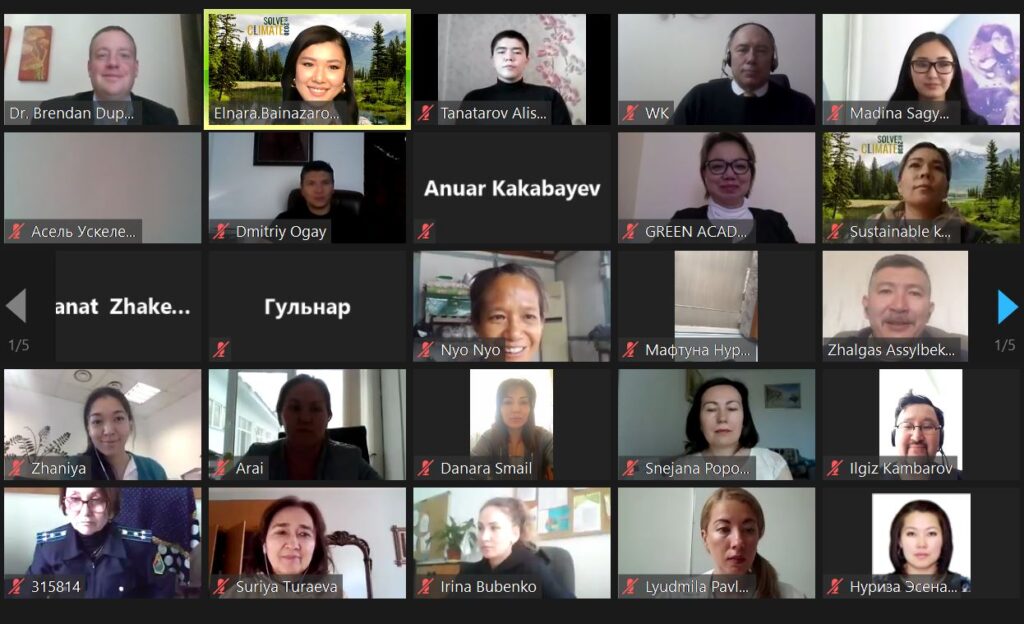 On April 22 – Earth Day – the Global Dialogue "Solve Climate by 2030" was held, organized by the Scientific and Educational Center "Green Academy" and NJSC "Narxoz University" in partnership with the delegation of the European Union. The event was held with the aim of promoting the intensification of the national dialogue on climate change in Kazakhstan and discussion of the processes of preparation for the 26th session of the Conference of the Parties to the UN Framework Convention on Climate Change (COP-26).
As you know, "Solve Climate by 2030" was initiated by the EU to discuss important international, national and local actions in the fight against climate change. Currently, the initiative has been supported in 50 countries around the world.
Welcoming remarks and reports were made by: Rector of Narxoz University Dr. Stanislav Buyansky, Head of Climate Change Department of the Ministry of Ecology, Geology and Natural Resources of the Republic of Kazakhstan Ms. Shattyk Tastemirova, Ambassador of the European Union to the Republic of Kazakhstan, Mr. Sven-Olov Carlsson, Ambassador of Austria to Kazakhstan, Mr. Willy Kempel, Member of the Council for the transition to a "green" economy under the President of the Republic of Kazakhstan, Director of the REC "Green Academy", Dr. Bakhyt Yessekina, Executive director of CAREC Mr. Zhafar Makhmudov, Director of the Research Institute "Sustainable Kazakhstan" of the Narxoz University Mr. Brendan Duprey, student of the Narxoz University Alisher Tanatarov. In general, more than 160 people took part in the webinar – representatives of governments, international organizations, scientific institutions, education and business from Europe, Central Asia and Kazakhstan; 20 people participated in Youtube.
Speakers and participants in the dialogue gave their recommendations to the government of Kazakhstan to intensify actions in the field of adaptation and mitigation of climate consequences. It is expected that in the near future the final document will be submitted to the Ministry of Ecology, Geology and Natural Resources of the Republic of Kazakhstan.